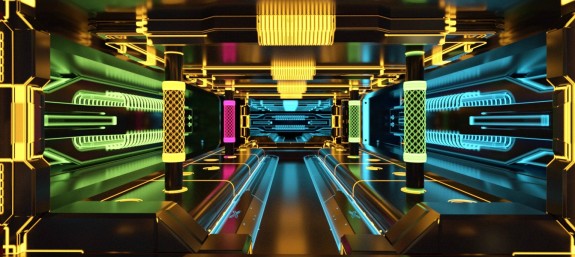 When thinking about the metaverse you have to consider many factors — accessibility, content availability, interface, social infrastructure, privacy options, and personal expression among many others.  If you take it one step at a time you can start to come up with likely scenarios. I had begun the thinking process with an experience in mind akin to MySpace, Squarespace, or Facebook. These are all tools that are (or were) used for some kind of personal expression to be shared on the web. There is of course a distinction to be made between social networks and web site creation tools like Squarespace but they share a lot in common as well. At their core, they make sharing things on the internet very easy and at a low or no cost.
A quick update about what's been going on at Borrowed Light. I've been focusing all my efforts on our next VR experience, a game that will be announced early in the new year. There is procedural generation involved so a lot of time has been spent figuring out what techniques work best for the unique style of gameplay. Most procedural level generation techniques seem to be geared towards sprawling dungeons — which is not exactly what we needed — I'm looking for tighter level layouts which means there can't be a bunch of empty space surrounding each room, instead I want there to be a compactness to the floor plan. I'll be going into more detail about my approach in a later post.
In addition to that, I'm starting on designs and concepts for the characters and environments. It's been a process of prototyping and revising before getting to any kind of visual design stage. I think it's so important to nail your core mechanic before getting into this phase so that's been my primary goal.
I am also hoping to do a post on the "rapidly exploring random tree" algorithm I've been putting together for the NPC characters. A lot to come in 2016! We can't wait to show you what we've been working on.
In the meantime, happy holidays from Borrowed Light!
I went to see a performance of Sleep No More over the weekend and I thought I would write about my experience because I think it's pretty relevant to VR storytelling. Sleep No More is a play that takes place in a large 5 floor space where the audience can walk through and see the performaces around them without any guidance. The concept of a dynamic performance that unfolds around you is something that VR could potentially do very well. I didn't know what to expect and I assumed it would be difficult to tell a coherent story in this way. I thought I would walk around and get bits and pieces of the story and that's about it.

This is the second and final part of the Making of Night Cafe series. For part 1 click here.
Unity and Scene Construction
Once I had all the assets built and ready for Unity I constructed the scene. While most of the objects were unique, there were several objects that were duplicated such as the tables and chairs. In order to maintain that handcrafted, one of a kind appearance I made sure to not actually duplicate them in Unity but instead to do it in Maya and then warp each one so they were in fact customized even if they shared the same textures.
We have officially launched The Night Cafe: An Immersive Tribute to Van Gogh on the Oculus Store for Gear VR. Between jumping from Unity 4 to 5 and many other optimizations this took longer than we would have liked but we're excited that it's now out there for everyone with a Gear VR or a DK2 to try.
Cheers!

I attended Oculus Connect this year and I wanted to give my first impressions of some of the things I saw there. Overall I had a great experience and I think Oculus did a great job organizing this event for developers. You could tell they really wanted to get all the latest tech they've been working on in front of developers to get people thinking about future games and experiences. The Touch controllers in particular seemed like the most important feature of the conference.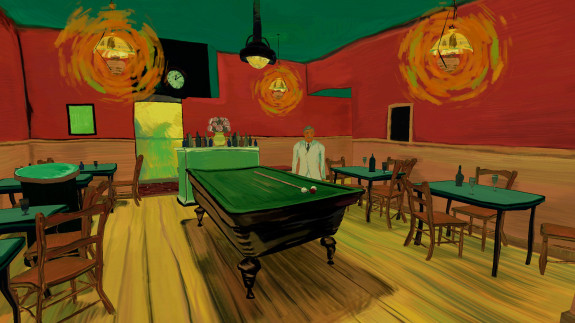 I've been meaning to put together a post to wrap up the Night Cafe project for some time now. This is the project that won the Platinum award in the Oculus Mobile VR Jam 2015 for apps and experiences as well as the Community Choice award.
I recently had the chance to test out Oculus Medium using the Touch controllers at OC2. I nearly missed out on signing up but I got lucky at the last minute, a slot opened up and I got to spend 8 minutes in the virtual reality sculpting app.
A couple caveats here — because I had such a short time in the experience, 4 minutes of instruction and the remaining 4 of free sculpt time, I can't go into too much depth but I can at least give my initial impressions. Also, I am going to mostly be (unfairly) critiquing it from the perspective of someone used to many of the professional tools out there such as zBrush and Mudbox.
Hello world(!) and welcome to the Borrowed Light Studios blog. We are just getting started here and while there isn't much to check out yet, we hope over the months and years ahead we will have a lot for you to peruse. With our new Gear VR game in active development we plan on providing regular updates on the blog about the progress and challenges we face in bringing the game to life.
Currently, we're working on wrapping up The Night Cafe: An Immersive Tribute to Vincent van Gogh and bringing that to various platforms (Gear VR and DK2). This is the experience that won the Platinum and Community Choice awards in the Oculus Mobile VR Jam 2015 and we plan on offering it for free to all Gear VR and DK2 owners.
Over the next couple weeks there will be a series of posts going up about the development process of Night Cafe. Check back soon, we're just getting started!
(Photo credit: Meeko the studio cat)