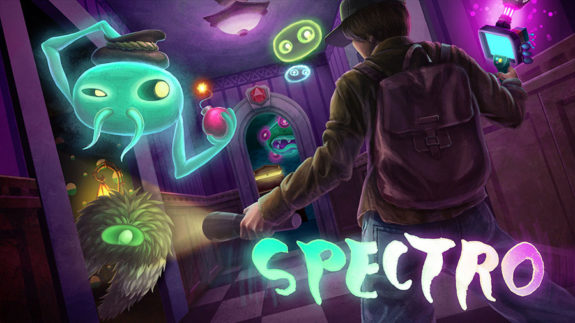 We're excited to announce our full launch of Spectro on both Steam and Oculus Store. It's been a fantastic 7 months of early access on Steam and we're finally ready to take it to the next step!
Here are some of the things we've added recently:
Challenge Relics
Chamber Rooms
Additional Ghosts
A big boss, The False King!
and More…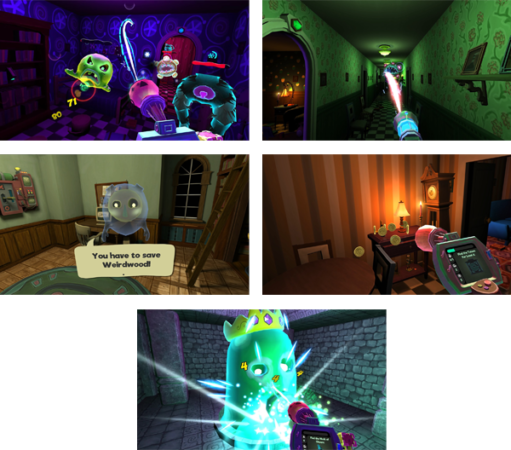 We hope you get a chance to check out the 1.0 version of Spectro, out now for all major PC headsets.
Stay tuned to hear our future plans for Spectro as well as upcoming projects we have planned at Borrowed Light Studios.
– The BLS Team
Happy holidays from all of us here at Borrowed Light Studios! Spectro is 25% off on Steam right now!
What is that eerie glow emanating from behind the bookcase? Could there be secrets hidden there? If only I could find a way to access it, there must be a clue around here somewhere. This tower holds more strange artifacts then I thought…
Changes:
Secret chambers???
New player weapon: throwable bombs
Loot drops tweaked
UI popup bug fix
Rattling door bug fix
Tutorial saved game bug fix
Mysterious statues are appearing in the haunted tower.
These relics of Weirdwood seem to contain a spectral energy.
But how curious that they seem to present a challenge?
What rewards or dangers might they bring?
We launched Spectro into early access last month and have gotten some great feedback in the meantime. Lots of players are enjoying the gameplay loop – it's a roguelike set in a ghost buster style haunted tower. Most players really like the variety of challenges the ghosts present but the one critique we were getting a lot was about one of the mechanics for completing searching challenges. Some players loved them and others just wanted to just keep busting ghosts. We decided to make this a separate optional challenge using a new system we're calling Relic Challenges. We just added it in the latest update which includes slightly re-balanced levels and additional types of these optional challenges to give players more variety in gameplay.
If you play Spectro we'd love to hear what you think!
Happy Halloween to all of those following along!
We hope you get loads of trick or treat candy this year 😉
We've had an amazing Early Access launch of Spectro on Steam and have been getting great feedback.
On this All Hallows' Eve we would like to extend an invitation for you to join the Borrowed Light Discord Server. If you are interested in our VR experiences then please do join us. It's a chance to hear from you all and help shape the future of Spectro and our other projects.
Hope to see you there!
Spectro is officially available on Steam in Early Access! We can't believe we finally made it this far and there is still a lot more to come for the game. We have a big roadmap of features that we'll share as we continue development, including bosses, more ghosts, more challenges, and other exciting surprises!
Spectro is a first person, ghost-busting, roguelike built exclusively for VR. Trap ghosts, dodge spells, loot chests, find hidden items, and explore an infinitely shifting haunted tower. Can you get to the top and return with the Mask of Okeem?
You can get it right now on Steam for Oculus Rift, HTC Vive, Windows Mixed Reality, and Valve Index!
Hello Borrowed Light friends!
We are excited to announce that Spectro will be releasing on Steam in early access next week!
Mark your calendars for October 15th and wishlist it now.
It's been a long time in the making (4 years since The Night Cafe!) and we can't wait until you all get to finally play it. In the meantime, check out the awesome cover art above, illustrated by Tami Kim.
Spectro is a first person, ghost-busting, roguelike built exclusively for VR. Trap ghosts, dodge spells, loot chests, find hidden items, and explore an infinitely shifting haunted tower. Can you get to the top and return with the Mask of Okeem?
See you in Weirdwood!
-The BLS Team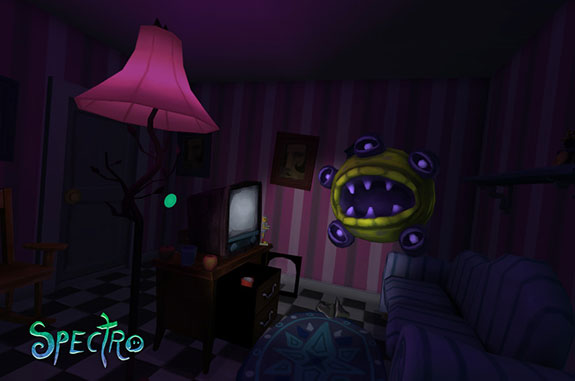 Just thought I would update the blog here because it's been so long! We've been pretty deep into development on Spectro here. A lot of exciting progress has been made with the ghost AI and how it reacts to the procedural generated levels. That was a tricky challenge but things are coming together. In the meantime we had to push the release date back a bit, we'll announce the new date here as soon as we can.
We're using Aron Granberg's A* pathfinding solution for Unity with a lot of custom AI behavior layered on top. That plug in is excellent though so definitely check it out if you're looking for pathfinding in Unity and the native solution isn't enough. It came in handy especially for dynamically generating navmeshes at runtime. Something Unity can't do on its own.
In addition to the AI we've also got cool things like gated level flow for houses with hidden keys and treasure placed in ideal locations each time a new house is generated. More on this soon. For now, back to coding!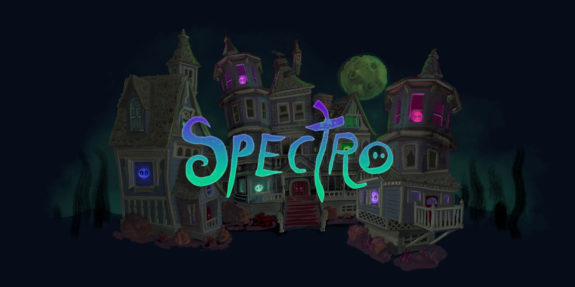 Things have been somewhat quiet on here as we continue to develop the new project full time. I suppose this is the first formal announcement of the new game on the blog here, so here are a few details: It's called Spectro, and it's a game about trapping ghosts and searching for hidden artifacts in the town of Weirdwood. You are the sole proprietor of a ghost detective agency in this strange little town, and you will be clearing many houses of these supernatural pests to see if you can keep your business thriving.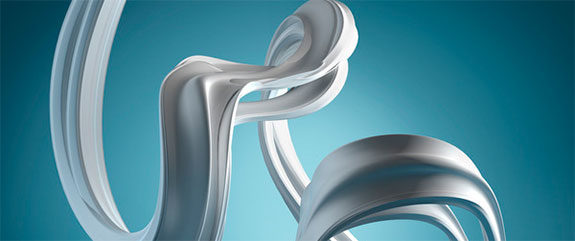 I recently started using Desmos, a free graphing tool, to come up with curve equations for my C# scripts.
(more…)